After nearly a quarter century, Toronto International Film Festival CEO and Director, Piers Handling will be stepping down at the end of this year.
A recent interview with Piers Handling inspired me to reflect on a few of my own Toronto International Film Festival (TIFF) experiences. One in particular has very special meaning for me.
Background
In 1977 I was in my late teens. Having graduated from high school I was eager to spring into the real world – a world I naively envisioned as glamorous and much more interesting than what life as a suburban high school student and part time fast food slinger had been.
At the time, a friend of my older sister had finished law school and was articling at Stikeman Elliott, Robarts and Bowman. The firm had recently brought on John Sopinka – a lawyer of impeccable repute – to set up and run their Toronto litigation operations. With Sopinka came some of the highest profile cases of the day. They grabbed the public's attention, many of them moving through The Ontario Human Rights Commission. Even from my uninitiated perspective, Sopinka was an important element in modernizing many aspects of our society at the time.
On top of his exceptional reputation, Sopinka was a very nice man. His family and friends were nice people too. How do I know?
Well, through my sister's friend I got a job at the firm as a mail room clerk. I guess Sopinka liked my youthful energy and style because after a few months he promoted me to be the firm's sole process server. In parallel, I was to begin training as a litigation clerk.
In Praise of Older Women
While Toronto in 1978 was a very conservative town, the benefit of hindsight does reveal there were undercurrents of social change starting to surface. In early September of that year, a movie booked to premiere at the Toronto Film Festival (then called The Festival of Festivals) had stirred up a lot of controversy because of a sex scene lasting roughly half a minute. The scene was judged by The Ontario Film Review Board to be too much for moviegoers of the day to handle and as such was ordered to be cut.
The movie starred Tom Berenger, Karen Black and Susan Strasberg and was called In Praise of Older Women.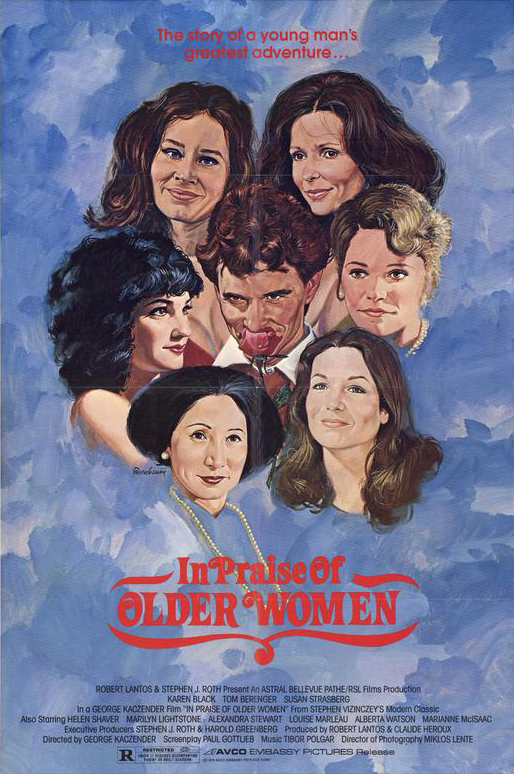 The film took place in World War II Hungary, was shot in Montreal and had a cast split roughly in half between Americans and Canadians.
My values at the time put me squarely against censorship.
Amazingly, the debate was literally brought to my desk when Stikeman Elliott ended up acting for The Festival in a case to "unlock" the 35 seconds of footage that was deemed by the Film Review Board to be obscene.
What followed was a few days of real glamour and intrigue as I tracked down key Festival players to either serve or deliver them legal documents. My sheltered suburban experience was blown wide open as I was introduced to some of the city's most stunning bars and restaurants. Secret meet-ups were arranged and unorthodoxed tactics were engaged. One evening, in a very exclusive part of town, I had to climb a fire escape, hop on to a balcony and knock on the balcony window to serve one of the key players. In his bathrobe watching the news, I still remember how gracious this man was as he opened his balcony door only to get served. He told me nicely that he'd been expecting me.
The Start of A Cultural Shift
Looking back, I believe the controversy over this film was an early turning point in Toronto's shift from quaint and provincial to something much more sophisticated – and it was all driven by what we now know as TIFF.
While I no longer remember the names of the people involved, I have immeasurable gratitude for the artistic and cultural trail they blazed. They were principled and courageous. They were also well supported if number of tickets sold to the film is any indication. Torontonians were ready for change. Oh, and the movie did run uncensored.
From that profound germinating event in 1978, TIFF became a driver, not only of its own maturation, but also in driving the artistic evolution of many other cultural institutions in this city.
Openness Can Take Many Forms
One of the many things unique to TIFF is it's warm embrace of citizen participation, not just for Torontonians, but for anyone from around the world who wants to connect with cinema and the creators behind it. Indeed, The Festival is unarguably international in scope, not just in terms of curation but also in terms of the global interest it attracts.
The Contribution of Piers Handling
So much of what TIFF has achieved is attributable to Piers Handling, along with the people he surrounded himself with. In this episode of TVO's The Agenda, Nam Kiwanuka chats with Handling about the incredible evolution of the festival, it's broader cultural impact, along with the importance of TIFF's permanent infrastructure. The TIFF Lightbox is one of Handling's proudest achievements. As TIFF's permanent home, it ensures current and future generations will appreciate what has and will be be accomplished through TIFF.
The Rest of the Story
Having just wrapped up my teen years, in the fall of 1979 I left Stikeman, Elliott, Robarts and Bowman on a journey that would eventually lead me into the world of broadcasting.
On May 24, 1988, John Sopinka was appointed to the Supreme Court of Canada. Sadly, he passed away on November 24, 1997. He was only 64.