My Waitangi Day started with the alarm going off at 5:00 a.m. There was a Wellington bound ferry to catch followed by a long drive to the east coast. The drive through the Tararua mountain range east of Wellington consisted of 13 kilometers of hairpin turns. The road was busy with holiday travelers including countless cyclists out enjoying a day off. Being a former distance cyclist myself (several years and many more pounds ago) I could empathize with the stress of all the cars passing them, but with the shoe now on the other foot, I found the constant breaking and gear changing on top of keeping track of the cyclists to be a real challenge first thing in morning.
Once clear of the mountains, the drive was quite lackluster by New Zealand standards. The reward was arriving at a bright, sunny Napier while the rest of the north island was being pummeled by heavy rain.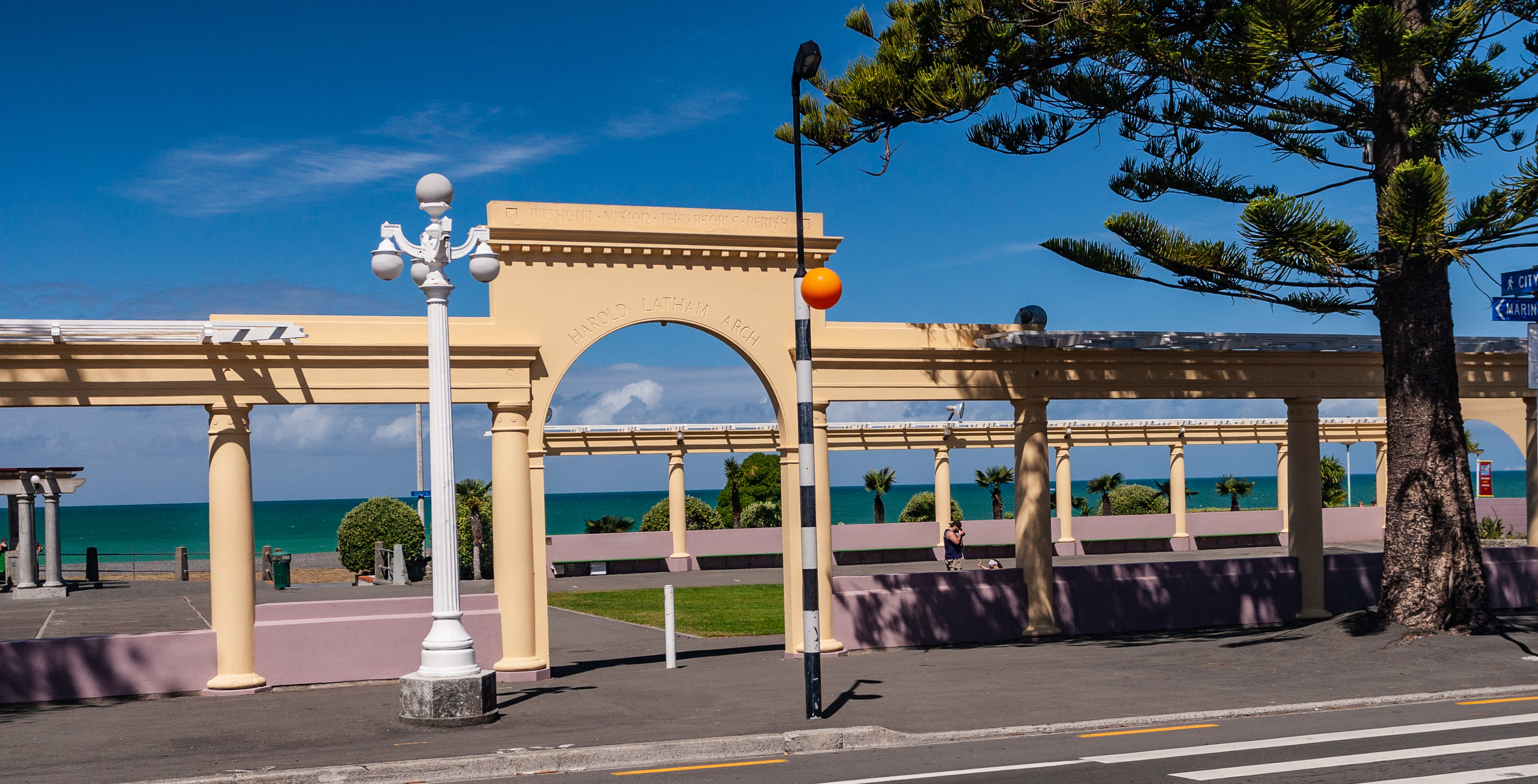 Napier, along with its trademark art deco buildings exceeded my expectations. The coastal location and resort atmosphere immediately awoke my spirit.
I've had a casual interest in art deco design for a while. Prominent art deco buildings in big eastern US cities are protected under historical designations. Any art deco buildings in Toronto were likely demolished in the boom of the 1960s and 1970s. The low profile art deco buildings here in Napier are more reminiscent of Beverly Hills than the skyscrapers of New York built in the 1920s and 1930s. Anyway, there's a real novelty in seeing this type of design in the context of a resort community. Napier was leveled by an earthquake in February 1931. It was the redevelopment of the town after the earthquake that gave planners and designers the opportunity to exploit the then trendy art deco style.
Waitangi Day observes the anniversary of the signing of a treaty between the Maori and European settlers back in 1840. As one would expect there is some contentiousness to the event and in fact it only became an official holiday in the mid 1970s.