Sometimes it's a good idea to kick life up a notch. Take a risk. Invigorate the soul. As a long winter of cocooning comes to an end, the desire to shake things up seems most intense. Call it everyday restlessness. I call it spring fever.
My good friend Joe gave me a call a few weeks ago with an out-of-the-blue invitation to join him on one of his regular trips down to the Chattanooga area. Joe has a couple of reasons for his attachment to the area. The main appeal is that it's a fast destination to escape Ontario winters, or in our case with this trip, a quick way to greet spring. The area is also a great launch pad should one want to venture further south – something Joe has done many times over the years.
As it turns out, just outside of Chattanooga is one of the continent's most reputable hang gliding facilities. Located in Trenton, GA is the Lookout Mountain Flight Park. Unbeknownst to me at the time of our departure, Joe was fully intent on trying hang gliding once we got down there.
As with a lot of people, I've had those exhilarating dreams of unaided flight. You know the ones… Jumping off the side of cliff and soaring over a valley to a controlled landing. These dreams seem to go beyond mere imagery. I contend it's a primal, instinctive desire hard-wired into the human subconscious – the origins of which are way beyond my grasp.
The prospect of fulfilling that desire to fly freely is both exciting and frightening. I love being up high but my strong fear of heights always takes precedence.
When Joe told me of his intent to take his first flight, my first reaction was, "Okay, I'll stay with both feet firmly on the ground. I'll use my telephoto and try to capture his life-changing experience vicariously through the lens". That thought was very quickly replaced with that spring fever restlessness, along with the more conscious realization that I was overdue to shake things up.
We booked our flights for what turned out to be a perfectly clear, calm Saturday evening around the dinner hour. A quick instructional video at the airfield and then it was time to harness up. The harness is then clipped to the airframe. Naturally, this was a tandem flight. Passengers are to the pilot's left and slightly raised.
Even before leaving the ground, there's exhilaration. As the tow plane pulls us along, there's a great sense of speed. Once airborne, the collage of views along with the sense of openness, speed and agility are truly awesome. To my surprise, I became quite emotional as we soared. The pure aesthetic of the experience would inspire anyone. Perhaps that was augmented by the realization that a life long dream was being fulfilled – one in all honesty I never thought I'd ever realize.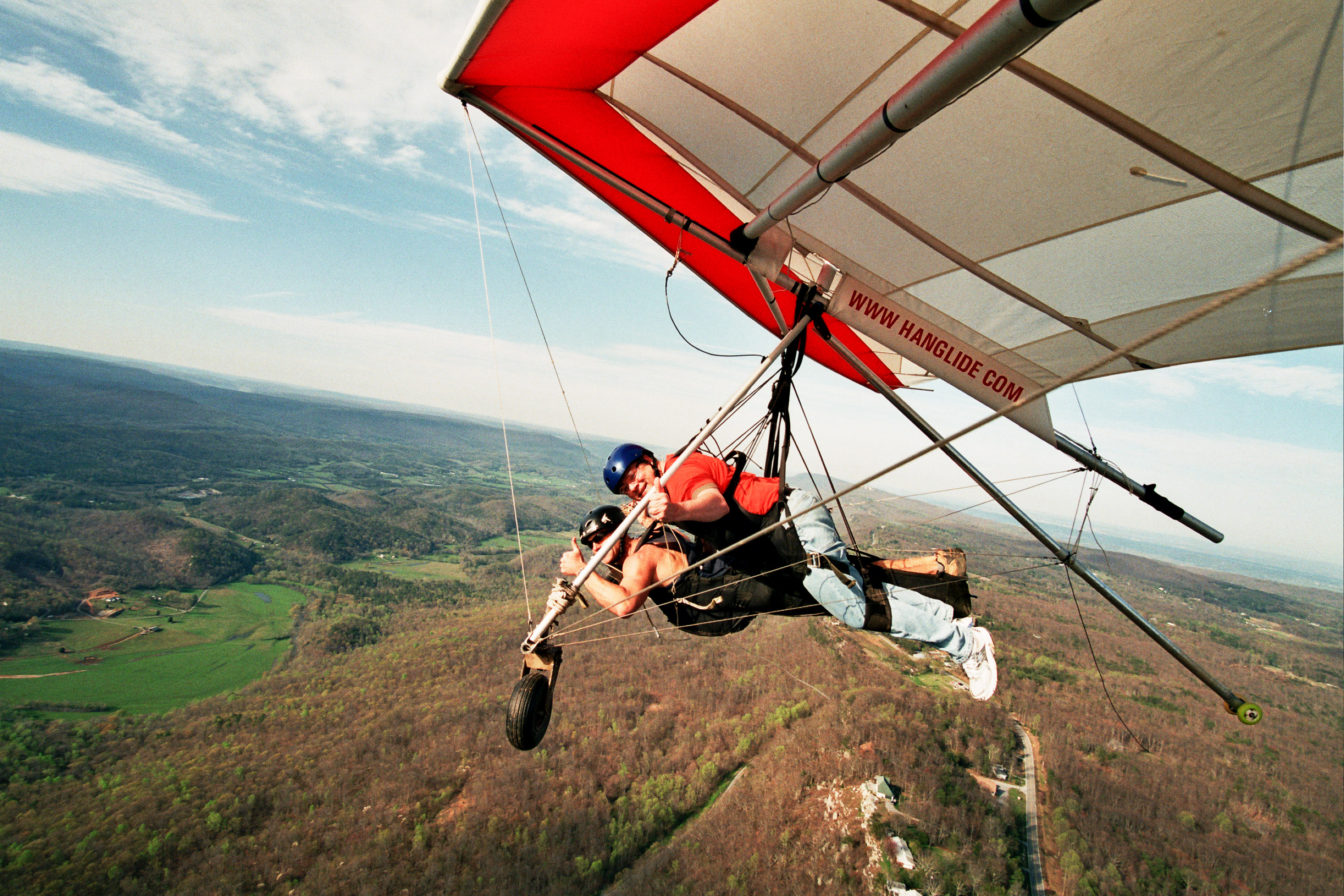 In the midst of this experience of pure joy, I had a brief bout of acrophobia lasting maybe ten seconds, but man, it was intense. Total helplessness and panic. "Help! I'm falling and it's a hell of a long way down!" My composure quickly returned in time to enjoy the rest of the flight.
Quick Facts About the Flight
We were towed to the 2,300 foot level (AGL) by a microlite where we were then released to fly on our own (there's an exhilarating jolt as that occurs). That altitude placed us about 600 feet above the mountain peak. It was amazing to look down on hawks scanning the side of the mountain for prey. The belief that through hang gliding we were closely replicating the experience of a bird of prey in flight was of great significance to me.
Being late in the day we had little in the way of thermals to sustain our flight. A rapid descent took us to a seamless, jolt free landing. After un-harnessing we stayed around the airfield to compare our experiences while watching others as they soared above us.
Lessons Learned
According to Lookout Mountain website, tandem hang gliding passengers have ranged in age from 5 to 92. Regardless of where you are in life, it's important to break away from the safety of a routine and take some risks – especially when they lead to an experience you've spent a lifetime dreaming of, yet for whatever reason, have placed out of reach.